Epicor Standardize Master File Descriptions explained in detail below.
In Epicor when you do a down arrow on a master file field it is the description that is displayed, not the short key name. So by standardizing the descriptions it makes finding the correct record easier. In the next example, I have put a department in front of the Security group descriptions. All finance security groups will be together.
| | |
| --- | --- |
| CEO | CEO/Owner/President |
| FinCFO | Finance – CFO/Manager |
| FinAP | Finance – Accounts Payable |
| FinAR | Finance – Accounts Receivable |
| FinFA | Finance – Fixed Assets |
| FinPR | Finance – Payroll |
| SalesMgr | Sales – Manager/CMO |
| SalesPer | Sales – Salesperson |
| PurMgr | Purchasing – Manager/CPO |
| PurBuyer | Purchasing – Buyer |
| QAMgr | QA – Manager/CQO |
| QAInsp | QA – Inspector |
| MfgCOO | Manufacturing – COO |
| MfgMgr | Manufacturing – Shop Manager |
| MfgEmp | Manufacturing – Shop Employee |
| WHMgr | Manufacturing – Warehouse Manager |
| WHEmp | Manufacturing – Warehouse Employee |
It is less important when there are less records to choose from and more important if there are thousands to choose from. In this example let take a look at the part master. When looking for a part there is also a description field to do a search on. So standards are critical for looking up parts.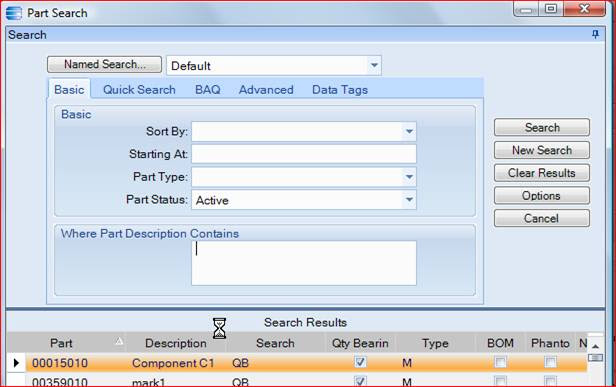 In this real world example, one I have personally seen way to many times. One engineer uses "Stainless Steel", another uses "SS" and another uses "SSteel" in part descriptions. When searching for an existing part, an engineer would need to look for all three abbreviations. In reality without standards we all know there could be more abbreviations for "Stainless Steel" that nobody knows about. When the part cannot be found, a new part will be created, purchased, and possibly stocked. This issue can snowball that you run out of one part and so you expedite it in. In reality, you already have the part number in stock under one or more internal part numbers. Worse case that I have personally seen was the same part number was stocked under seven internal part numbers. This decreases cash flow, increases inventory taxes, and can eventually increase obsolete part cost.
It is not just abbreviations that are important to the standardized; it is the order of the words in the description. Do not re-invent the wheel; take a look at your suppliers' web-site. They have already done the work. For instance, if you are creating the standards for hardware part take a look at your suppliers' website. The supplier has put some thought into the ease for a customer to find what they are looking for. The descriptions are normally most import identifier to the least import identifier. For example, we are trying to determine Screw descriptions you want something like:
Screw, Type, Head Type, Material, Length, etc
Screw, Wood, Round, Aluminum, .75 in…..
Screw, Machine, Hex, Stainless Steel, 1.25 in…
Screw, Sheet Metal, Steel, 3/4 in…
Part of your standard is to determine how to signify length. Are you going to use .75 in or 3/4 in?
Your company could decide length is more important than material, if that is the case flip the two around. The identifier order is less important than having a standard and enforcing it.
In Epicor, my opinion, the part number description is much more important that the part number itself.
Part descriptions can be changed at any time, even years after the implementation.