In Epicor 9, creating a new a new Crystal Report is much easier than in the past.  Epicor even creates a blank crystal report with headings.   You can make even easier by updating the BAQ report template to your corporate standard.Go to Epicor > Executive Analysis > General Operations > BAQ Report Designer
Then    Actions > BAQ Report Options
The two fields that are important for this tip is the Server Reports Directory and the BAQ Report Template fields.    In this example, the BAQ Report Template name is BAQReport.rpt and it is found in the Server Reports Directory.
Be sure to look at the entire field "C:\Program Files\Epicor\Epicor905\Server\reports\CustomReports".
Open the template report in Crystal Reports.
Save this report under a new name.   I like adding "Original" to the end of the name.
Crystal Reports now has the new report in the designer.  (see "Original" in the name)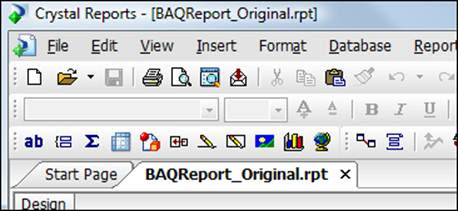 If you somehow break the template, you can now copy the original back and start over.
Re-Open the Template to make your modifications
I am going to add the Company Logo, move the page print to the report footer and add the Print time under the print date.  Save the report

Going back to the BAQ Report Designer, create a new report and Save.
With Crystal Report open your new report name.
You know are creating blank reports with the corporate standard headings.   This will save time on every report created in the future.